Produce and use your own energy – and get rewarded. 

Changers is another great company/product. With their solar kit you can produce and use your own energy. But that's not it. You can share your effort and your results with other "Changers" and you even get rewarded with "Changers Credits" that are based on watt hours of self-generated renewable energy.
You can redeem your credits for discounts on products or services across a network of partners that are joined the Changers Marketplace. The networks includes shops like Lilli Green (amazing shop BTW) or Coffee Circle as well as services like DriveNow, DHL GoGreen or Kochzauber. I'm sure that they will expand their Marketplace in the future so stay tuned!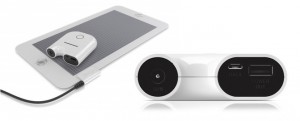 So enjoy the sunshine and make a decision!
"In order to be successful in our fight against climate change, awareness in indispensable. Every single one of us should know what kind of impact we have on our climate, how we can protect it and how we can bring about change. These are the most fundamental challenges of our time."